Deviation Distilling Announces its Dairy Block Grand Opening Date
February 14 2023 – Robert Wiley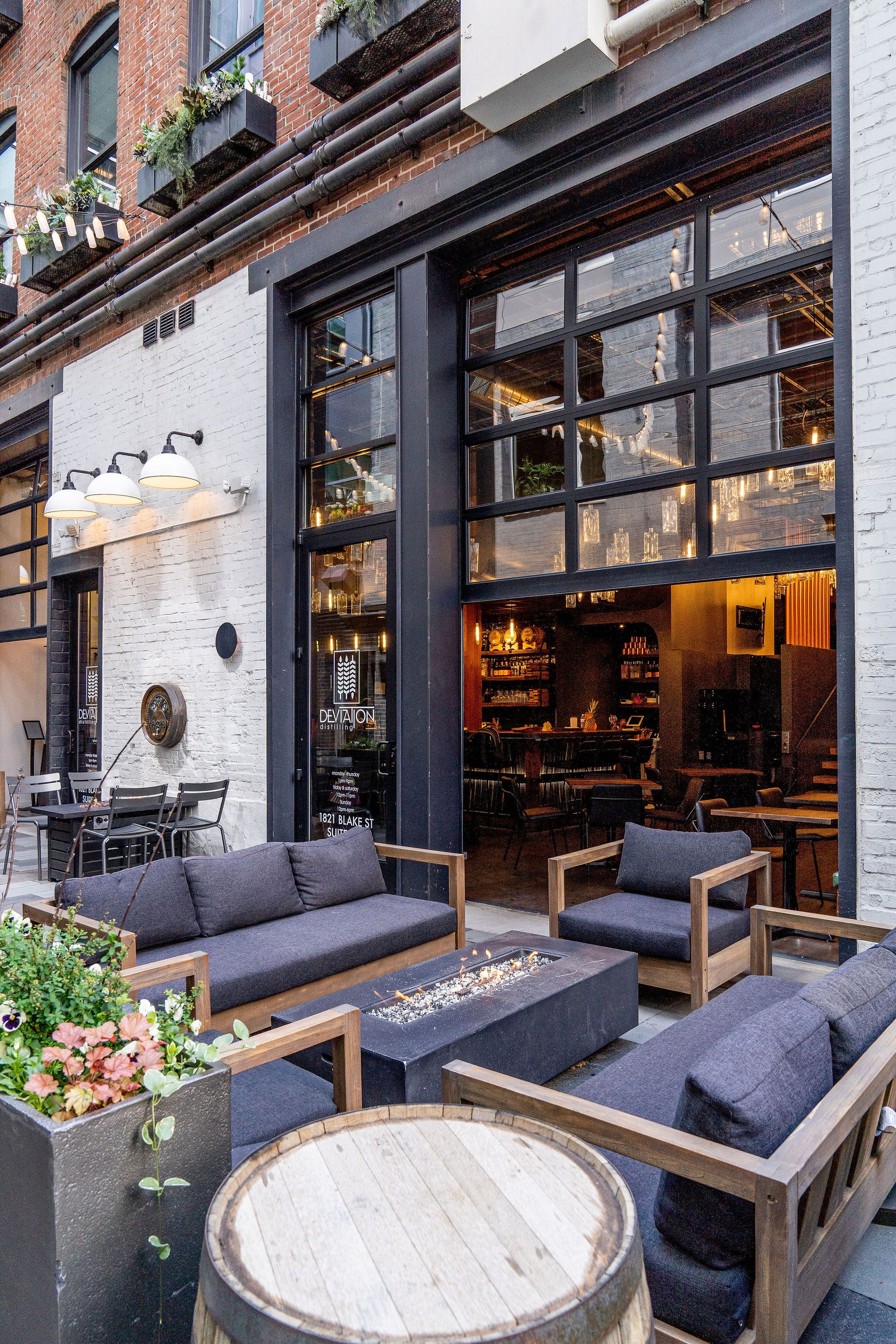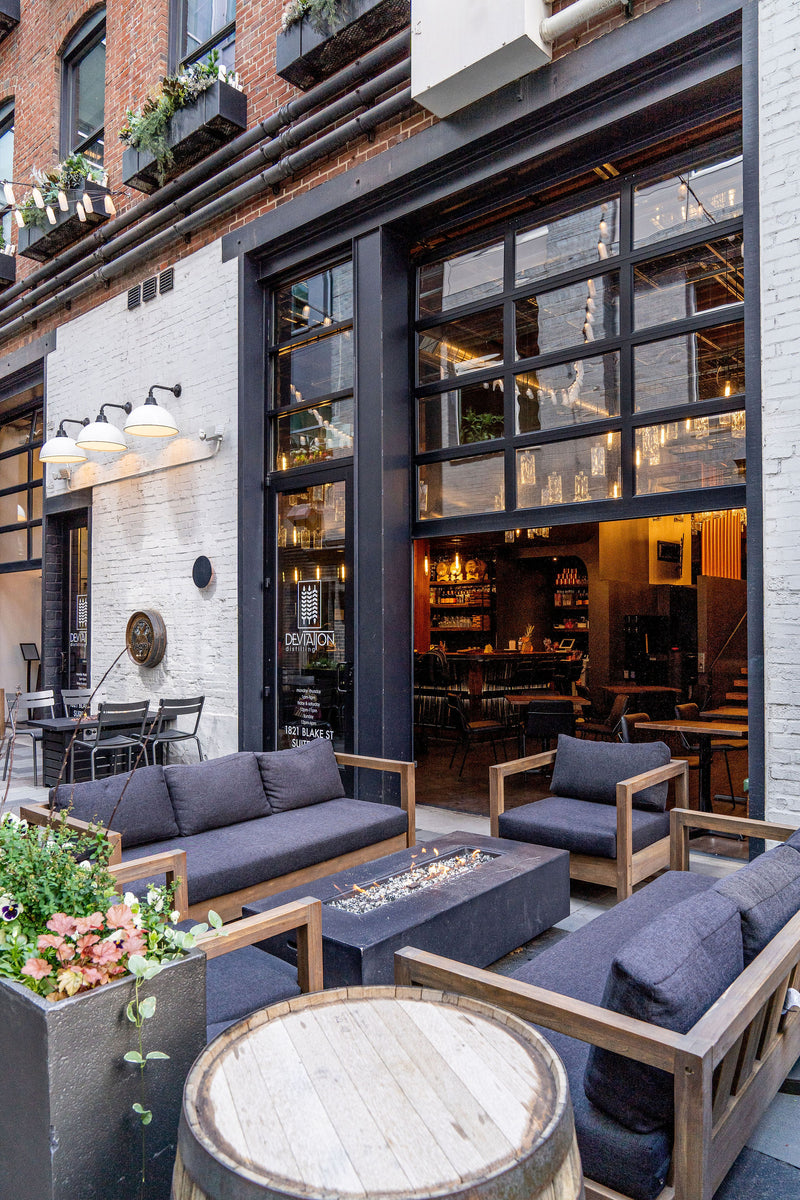 Denver (August 25, 2021) – Denver's premier gin distillery Deviation Distilling is set to open at its new Dairy Block location (1821 Blake St.) on September 2. Deviation Distilling transformed an 1800s firehouse into a lively patio, intimate lounge and event space in the heart of Dairy Block's mixed-used alley in Downtown Denver.
 "Surrounded by world-class dining, lodging, and retail, we are thrilled to bring the first distillery to Dairy Block," said Deviation Distilling Co-Founder Cindi Wiley. "The energy, the foot-traffic, the year-round nearby events and everyday activity create a destination that is unmatched in Denver."
Spanning two levels, visitors are greeted with a stunning bottle light display with hundreds of Deviation Distilling bottles that guide the guest throughout the space. The first level features ample patio seating in the Alley, while two large garage doors connect the patio space to the indoor bar area. The second level features a more intimate experience with a dark lounge, private tables, and banquette seating. The 1,791-square-feet space has capacity for 105 people and will be available to reserve for private events.
 Deviation Distilling, known for its use of unique global ingredients, will be releasing a new cocktail menu, which will include a Churro Old Fashioned and Split Decision featuring two of Deviaton's gins, as well as offer beloved best-sellers such as Cucumber Basil and Paloma with Thai chili simple syrup. The taproom will also have light, sharable bites, such as charcuterie boards and a gourmet cupcake flight. In addition to its well-known, award-winning gins, Deviation Distilling is releasing two Dairy Block-exclusive products. The Blood Orange Gin, developed by head distiller Dave Gade, will be available opening day. They will also be releasing a barrel-finished whiskey using fellow Dairy Block resident Blanchard Family Wines' Dry Creek Valley Zinfandel barrel mid-September.
Deviation Distilling's hours will be as followed:
Monday – Thursday, 1-9 p.m.
Friday, 1-11 p.m.
Saturday, 12-11 p.m.
Sunday, 1-6 p.m. 
"The founders of Deviation are passionate 'makers' and we are thrilled to have them activating this historic space," said Dairy Block General Manager Don Cloutier. "Dairy Block is home to an eclectic mix of cocktail establishments and we are excited to add a Deviation tasting room to the mix."
Deviation Distilling opened in the Baker neighborhood in 2019 – the brainchild of Bob and Cindi Wiley and Gade. The distillery and lounge has since closed its Baker location and will be expanding its production facility to Sheridan, Colo.
Renderings and photos can be found here.
 About Deviation Distilling
With stunningly beautiful bottles and unique ingredients, like spruce tips and Szechuan peppercorns, Denver-based Deviation Distilling has become the destination for approachable gins and one-of-a-kind cocktails. Deviation Distilling launched in 2019 with a flagship lineup of three gins: Mountain Herb, Citrus Rosé and Spice Trade. In spring 2020, Deviation Distilling launched a new brand of coffee-inspired whiskies: Barista Spirits. Deviation is the brainchild of Cindi Wiley and childhood friends Bob Wiley and Dave Gade. Deviation Distilling, Rooted in Tradition and Different by Design, has won several gold medals in a variety of competitions for their gin including: Bartenders Spirit Awards, USA Spirit Ratings, ADI Spirits Awards, Denver Spirit Awards, the Breckenridge Craft Spirits Festival, and was awarded the 2019 American Distilling Institute National Brand Identity Award. To learn more, visit Deviation Distilling online and follow on Facebook and Instagram.
About Dairy Block:
Developed by McWHINNEY, Sage Hospitality and Grand American, Inc., Dairy Block is a mixed-used redevelopment of the historic LoDo block that once housed Denver's Windsor Dairy. Dairy Block is home to a wide variety of restaurants & bars, an eclectic shopping mix featuring local boutiques & top national brands and the independent 172-room Maven Hotel. For more information, please visit https://dairyblock.com/.